Sustainable Hotels
EN
English
Deutsch
Français
русский язык
українська
Türkçe
español, castellano
العربية
فارسی
中文 (Zhōngwén), 汉语, 漢語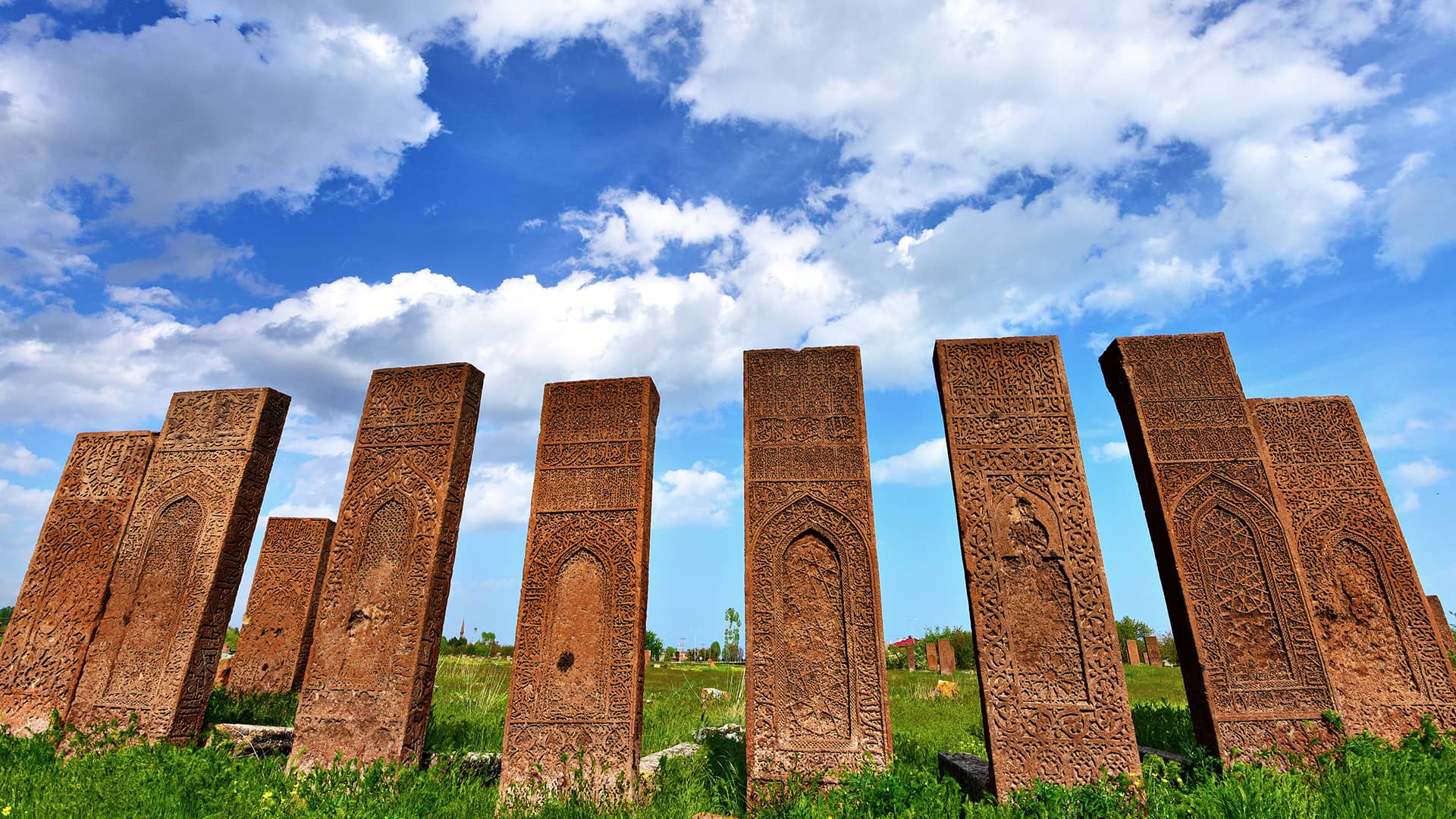 Ahlat is one of the Cittaslow cities in Türkiye.
Thanks to its geographical location, Ahlat has been a bridge between Eastern and Western civilizations throughout history. Ahlat played a very important role in the migration of Turks from Central Asia to Anatolia.
Throughout history, Ahlat's significance has been established by its location on the roads from Asia to Anatolia, its warm climate for the standards of the Eastern Anatolian region, its fertile lands, the abundance of local building material suitable for construction, and its water resources.
Just west of Ahlat is an polygonal 13th-century tomb, Usta Şağirt Kümbeti (Ulu Kümbeti), 300 m off the highway. It's the largest Seljuk tomb in the area.
Further along the highway, on the left, is a museum and behind it the vast Selçuk Mezarlığı (Seljuk Cemetery), with stele-like headstones of lichen-covered grey or red volcanic tuff with intricate web patterns and bands of Kufic lettering.
Over the centuries, earthquakes, wind, and water have set the stones at all angles, a striking sight with spectacular Mount Nemrut as a backdrop. Most rocks have a crow standing sentinel, and tortoises patrol the ruins.
On the northeastern side of the graveyard is the unusual Bayındır Kümbeti ve Camii (Bayındır Tomb and Mosque) which dates back to 1477. It has a colonnaded porch and a mihrab, a niche indicating the direction of Mecca.
Other sites include the Çifte Kümbet (Twin Tombs), about 2 km from the old museum towards the town center, and the Ahlat Sahil Kalesi (Ahlat Lakeside Fortress), south of the Çifte Kümbet, which was built during the reign of Süleyman the Magnificent.