Sustainable Hotels
EN
English
Deutsch
Français
русский язык
українська
Türkçe
español, castellano
العربية
فارسی
中文 (Zhōngwén), 汉语, 漢語
The Health Benefits of Turkish Cuisine
Turkish cuisine is inherently healthy and highly seasonal, with many dishes being built around the multitude of fresh produce available. Fresh fruit and vegetables, eggs, dairy and meat are produced throughout the country, ensuring highly nutritious and fresh tasting food. The flavours and spices that go into Turkish Cuisine are not only delicious, they have antioxidant properties, working to lower cholesterol, eliminate toxins and boost immunity. Fresh herbs like dill, parsley and rosemary are often used to flavour dishes, while across the Aegean and other sparsely inhabited regions, wild herbs are sought for their perceived health and medicinal qualities. Spices like red pepper flakes, sumac and ginger are used to flavour dishes or as homeopathic remedies in their own right.
Olive oil is traditionally used to cook and preserve dishes, providing antioxidants and essential trans fats. While fresh fish and other seafood contribute to a diet high in essential fatty acids. Here are some of the health benefits of Turkish Cuisine. Enjoy the traditional Turkish food while in Türkiye, to discover unique tastes and also for their wellness properties.
Seasonal produce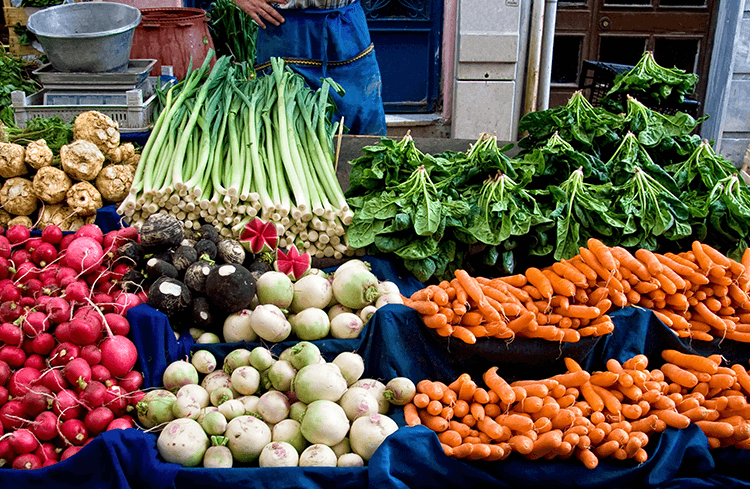 Türkiye is a large country and with most of the population concentrated in cities, there is ample room for growing a variety of produce. Each region of course has delicacies and specialities, many of which have grown throughout Türkiye for centuries. The staples of the Turkish kitchen: eggplants, tomatoes and peppers grow round and juicy under the warmth of the sun. Citrus crops, pomegranates, olives and nuts thrive in the coastal climes, as the valleys of Anatolia grow thick with wheat and grains.
The variety of produce available means seasonal specialities are made to welcome each change of the season and to promote good health throughout the year.
Herbs and Spices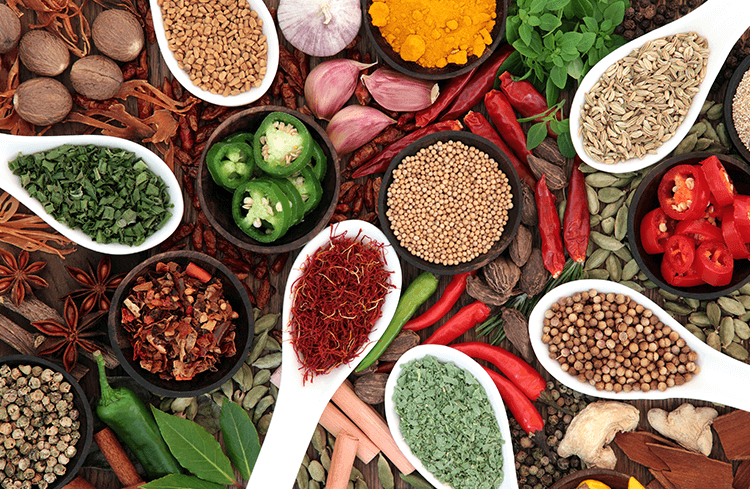 Turkish cooking uses a lot of fresh, leafy herbs that are rich in flavour and have additional health benefits. High in vitamins and minerals, wild Turkish herbs are often touted for their anti-inflammatory properties. Across the Aegean and into Anatolia proper there are a number of regional herb varieties that are highly prized, you might see them at local markets or spice shops (aktars).
Spices and spice markets are an essential part of Turkish Cuisine, and therefore, Turkish life. From the Spice Bazaar in İstanbul, to the home kitchen, spices are omnipresent. Used for flavour, many spices are high in vitamins, minerals, vital antioxidants and have anti-inflammatory properties. A common home remedy for a sore throat is ginger power, cinnamon and chilli powder mixed with a little honey. This potent remedy is quintessentially Turkish, making use of ingredients readily available in most homes and delivering a sharp kick and a whole host of vitamins and minerals with each bite.
Home cooking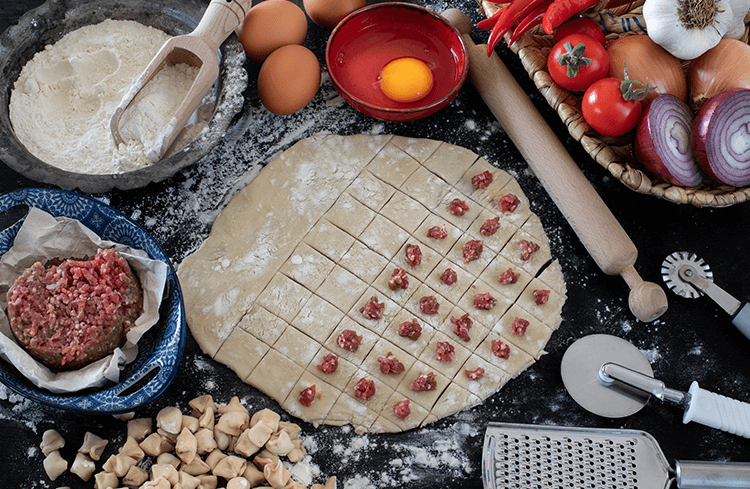 The kitchen is the heart of the home and nowhere is that truer than in Türkiye. Turkish cuisine is meant to be shared with friends, family and guests. This means that dishes are typically made in large quantities, with a busy bustling here and there as the meal is prepared. The reliance on homemade tomato sauce is a secret for many home chefs - nothing store-bought in this house! The love and attention that goes into the most basic ingredients are a testament to the role and importance of food and healthy eating in Turkish culture.
In home cooking (ana yemekler) style restaurants around the country, you'll be able to find dishes of the traditional Turkish Cuisine, full of delicious flavours and deeply nourishing.
Olive Oil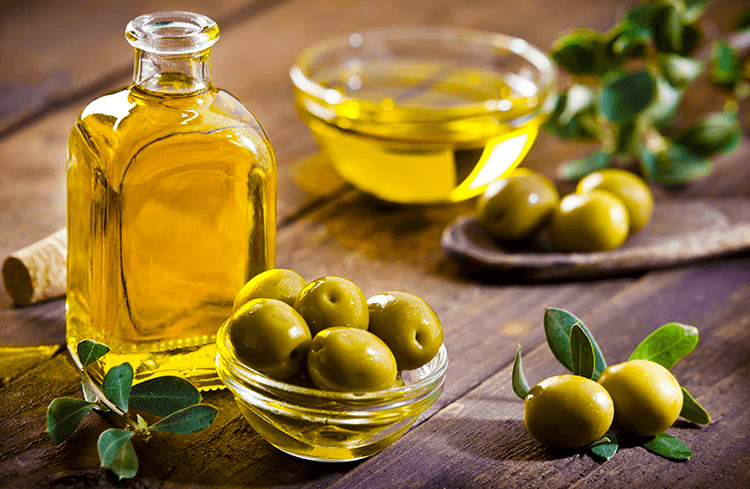 It can be hard to keep up with the latest trends when it comes to oils. A small amount of olive oil is good for a healthy heart, healthy skin and hair. Turkish food is chiefly cooked and preserved in olive oil, even cakes are made with olive oil instead of butter! Olive oil has been shown to assist in lowering cholesterol, risk of diabetes, stroke and possibly Alzheimer's. Turkish food, even when substantial, has a lightness to it that might be attributed to olive oil (amongst other things), it's delicate flavour leaves the produce to work its magic, enticing to the last bite.
The high number of antioxidants in olive oil might explain why Turks have such clear skin and long luscious hair.
Vegetarian and Vegan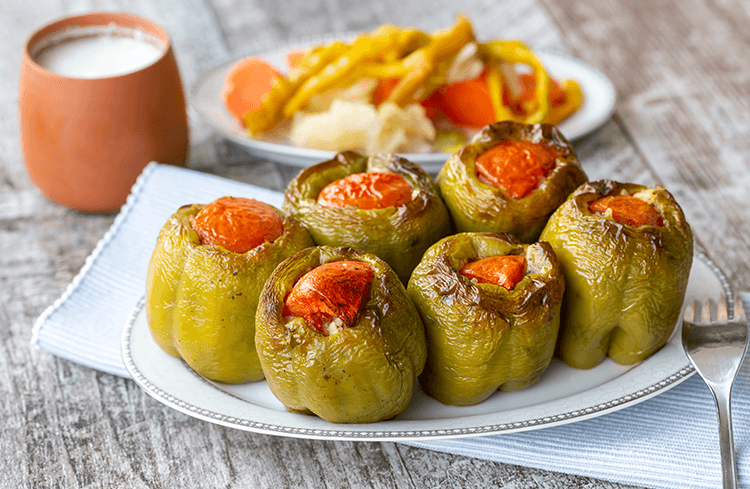 Turkish food has a high concentration of vegetarian and vegan dishes that can be eaten on their own, with rice or grains, or as an accompaniment to meat or fish. In times of celebration, a large crowd will gather together and enjoy lamb, beef or sometimes fish, cooked very simply over coals or grilled. The vegetable and vegan olive oil dishes, grain salads, meze and other accompaniments are typically made from fresh, seasonal produce and flavoured liberally with fresh herbs. As olive oil has typically been easier to make and store (compared to butter), many dishes are naturally based on olive oil and are therefore vegan friendly.
Enjoyment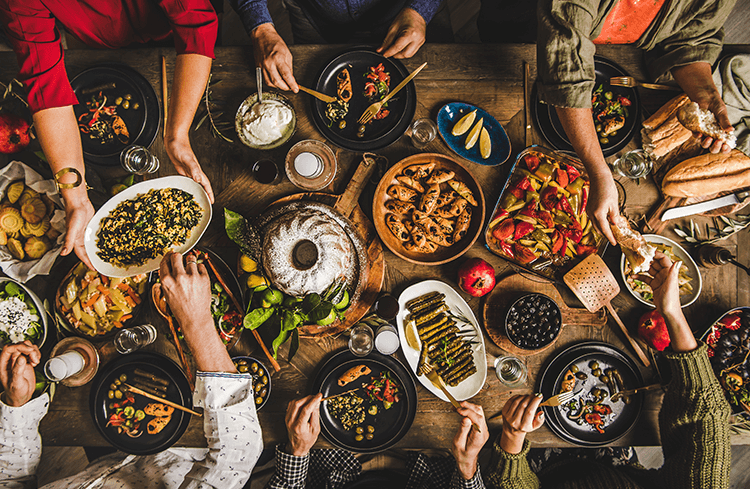 Food is an essential part of life, why not share it with loved ones and new acquaintances? Türkiye is a truly hospitable, welcoming country. Nothing is more Turkish than coming together to share, joke and laugh over an elaborately prepared meal. Across Türkiye, there are a wide variety of regional specialities, making the best out of the fresh produce, wild and traditional herbs and spices and locally produced olive oils.
We're sure you'll leave Türkiye glowing from the inside out! After all, sharing freshly prepared food, flavoured with fresh herbs and spices is surely the biggest health benefit anyone could wish for!