Sustainable Hotels
EN
English
Deutsch
Français
русский язык
українська
Türkçe
español, castellano
العربية
فارسی
中文 (Zhōngwén), 汉语, 漢語
The 5 Best Lakes of Türkiye's Lake District
The lake district across the Mediterranean region of Türkiye is made of up Lake Acıgöl, Lake Akgöl, Lake Akşehir, Lake Beyşehir, Lake Burdur, Lake Eber, Lake Eğirdir, Gavur Lake, Lake Çavuşçu, Lake Işıklı, Lake Karamık, Lake Karataş, Kovada Lake, Lake Salda, Lake Suğla, and Lake Yarışlı.
These lakes make for excellent camping grounds, but some are a little remote so the easiest way to get around is to rent a car from the nearest city center and take it out to go hiking, camping, or just day-long sight-seeing before heading back to the city.
Lake hopping in most cases is even totally possible, as many of them are close to one another and the roads between them are often quite good. This district represents a great place to spend a long weekend or even longer.
So here are the top 5 lakes from the lake district, perfect for however you want to spend your time away from the big city and right in the middle of Mother Nature.
Lake Salda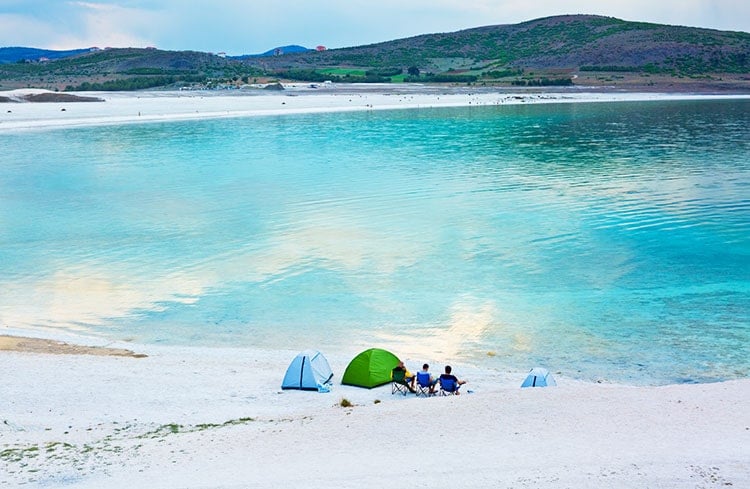 Looking for that "Turquoise Riviera" flavor only without all the salt and waves? Well luckily for you, right in Burdur sits Lake Salda, known for the turquoise colors of the water and the white sand dunes that surround it. What makes Lake Salda truly special is simply how isolated it truly is. Droves of tourists go to the beaches of Antalya every year. But Salda feels much more untouched by human life.
There are a few picnic benches scattered around, but not really any cafés or restaurants. Just bring your food and drink and spend the day basking in the beauty of this incredible location – and obviously don't forget to go for a dip in its cool waters!
Salda is a crater lake, and actually one of the reasons for its refreshingly cool water is that it's shockingly deep – probably the deepest in all of Türkiye at nearly 200 meters. But people swim for more reasons than simply pleasure.
The hydromagnesite mineral make-up of the lake produces wonders for dermatological diseases of all sorts. Holiday-makers report that their acne, dandruff and eczema disappear after a week at Lake Salda, let alone the various reports of miracle cures of more serious skin diseases.
This mineral content of the lake also makes it interesting for scientists, as it is believed to be similar to surface lakes found on the planet Mars.
All told, Lake Salda is one of the undiscovered gems of Türkiye and possibly the first stop of any trip through Türkiye's incredible Lakes district.
Lake Eğirdir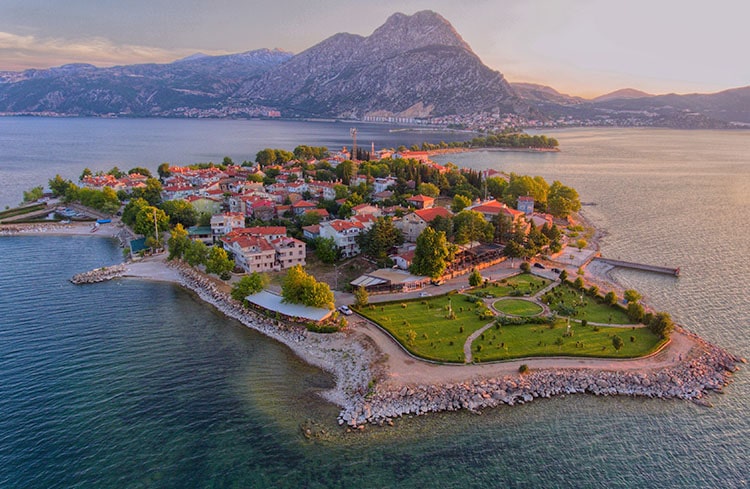 Sun loungers, cushions, bean bags, and umbrellas dot this sunny lake, which also has showers and changing cabins to attract beach-goers. You can camp right on the beach as well in the specially zoned off camping grounds, making it a real beach experience.
But the main attraction of Eğirdir isn't so much its beaches, but the history all around. Nis Island (also called Yeşil Island, or Green Island), has ruins going back around 2,000 years and is accessible to the mainland now by a road placed along a breakwater. The Ayastefanos Church is Byzantine and is well worth a visit just by itself.
Even the breakwater that makes the island accessible is interesting. Because it's a breakwater, as you cross you'll notice that one side of the water is choppy while the other is perfectly calm.
Eğirdir also features a castle believed to date back to the 4th century B.C., and right around it you can find rose creams and rose-scented baskets brought from nearby Isparta, or rose-water to be used for either beautification purposes or in cooking.
The lake features fresh-water bass, trout and carp, which fishermen catch along the edge of the lake and will sell to you directly or to nearby restaurants. The bass is usually cooked in a sauce only available in Eğirdir, so make sure to get the special sauce bass when you go!
Lake Burdur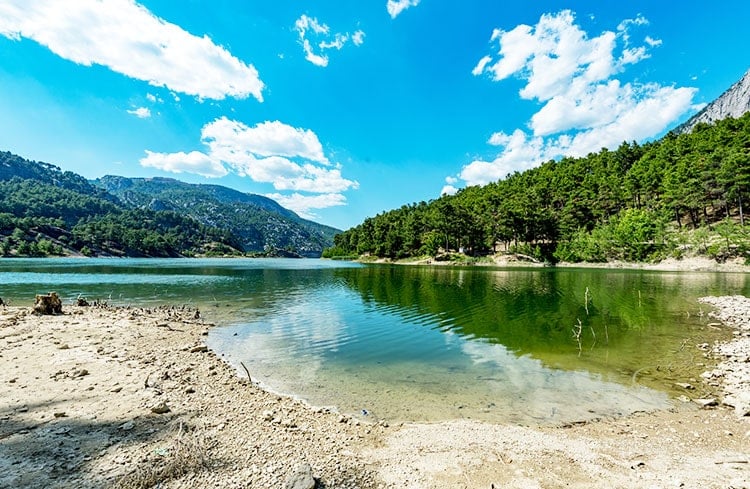 Bird watchers, have we got the holiday hotspot for you! Burdur is a saline lake and one of its features is that it doesn't freeze as a result. This makes it an absolute heaven for birding in the winter, and many birds migrate here during the winter months.
For starters, it's the most important site in the world for the white-headed duck, a globally threatened species. But it's home to many other local birds and at least 10 other internationally endangered species. These are the reasons it's been a Ramsar Site since 1993 and Wildlife Reserve since 1994.
It's salty waters also make it home to rare fish, with the Burdur toothcarp or Sureyan killifish being endemic to the lake and endangered throughout the rest of the world. Despite this, the fish is thriving in the lake and is even available in restaurants all around. It feeds on a form of crustacean found only in Lake Burdur called the arctodiaptomus burduricus.
Lake Beyşehir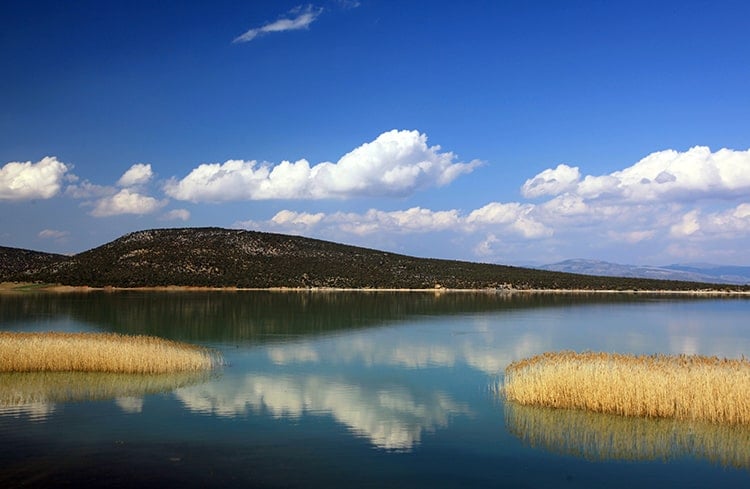 Lake Beyşehir is Türkiye's largest freshwater lake and is another of the birding paradises located in Türkiye's lake district. Many important bird species make this their home in all seasons, and the 33 islands you'll find in the lake all feature different species and have different feels to them.
The sunset views of the lake are particularly famous, as the red of the sun is shaded by flying birds and a stunning natural setting.
The islands are also worth visiting for their remains, as 21 of the 33 islands were inhabited by the Seljuk Empire, with remains on most of them.
The lake is surrounded by Beyşehir National Park, which helps protect both the natural beauty and the wildlife. The beaches of the lake are 100% natural with local sand, and there are cafés, restaurants, and picnic benches for visitors.
Lake Eber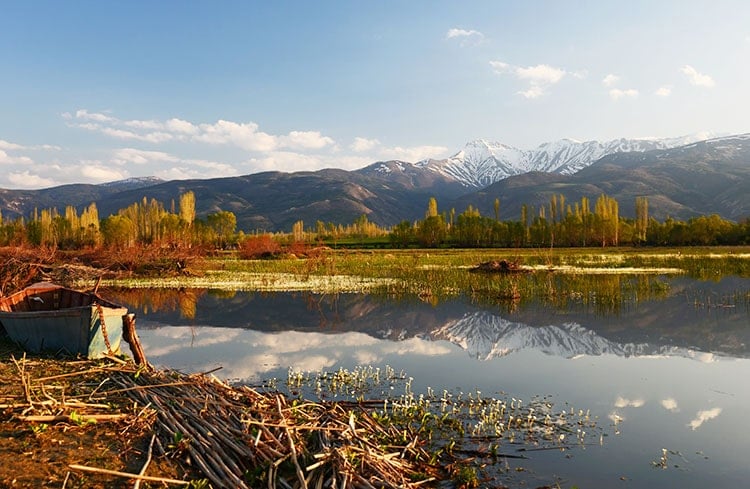 Lake Eber, as with many of other of the beautiful lakes of this region, is a bird sanctuary. In 1989, it was declared an "Important Bird Area" by BirdLife International. And one glance at the lake is enough to see why, it almost looks like a meadow from afar, with reeds floating in it and forming hundreds of little islets for birds to land on and feed from.
Canoeing is more popular than swimming in Lake Eber, but canoeing around the lake and taking in the wildlife makes for a truly wonderful day out. The islands themselves are so unique that locals call them their own name, "kopak," rather than anything corresponding to the standard names for islands. Some of the islets are large enough for fishermen or wildlife enthusiasts to stay on overnight, literally floating across the lake as they sleep!