Sustainable Hotels
EN
English
Deutsch
Français
русский язык
українська
Türkçe
español, castellano
العربية
فارسی
中文 (Zhōngwén), 汉语, 漢語
The Real Story of Sweets Beyond Baklava
The most well-known sweets associated with Turkish Cuisine are "lokum" (Turkish delight), and "baklava", giving the impression that these may be the typical desserts eaten after meals.
This, of course, is not true. First of all, the family of desserts is much richer than just these two. Secondly, these are not typical desserts served as part of the main meal. For example, baklava and its relatives are usually eaten with coffee, as a snack or after a kebab dish. So, to further our education in Turkish cuisine we will survey the various types of sweets.
By far, the most common dessert after a meal is fresh seasonal fruit that acquires its unique taste from an abundance of sun and old-fashioned ways of cultivation and transportation. Spring will start with strawberries, followed by cherries and apricots. Summer is marked by peaches, watermelons and melons. Then, all kinds of grapes ripen in late summer, followed by green and purple figs, plums, apples, pears and quince. Oranges, tangerines, and bananas are among the winter fruits. For most of the spring and summer, fruit is eaten fresh. Later, it may be used fresh or dried, in compotes, or made into jams and preserves. Among the preserves, the unique ones to taste are the quince marmalade, the sour cherry preserve, and the rose preserve (made of rose petals, which is not a fruit!).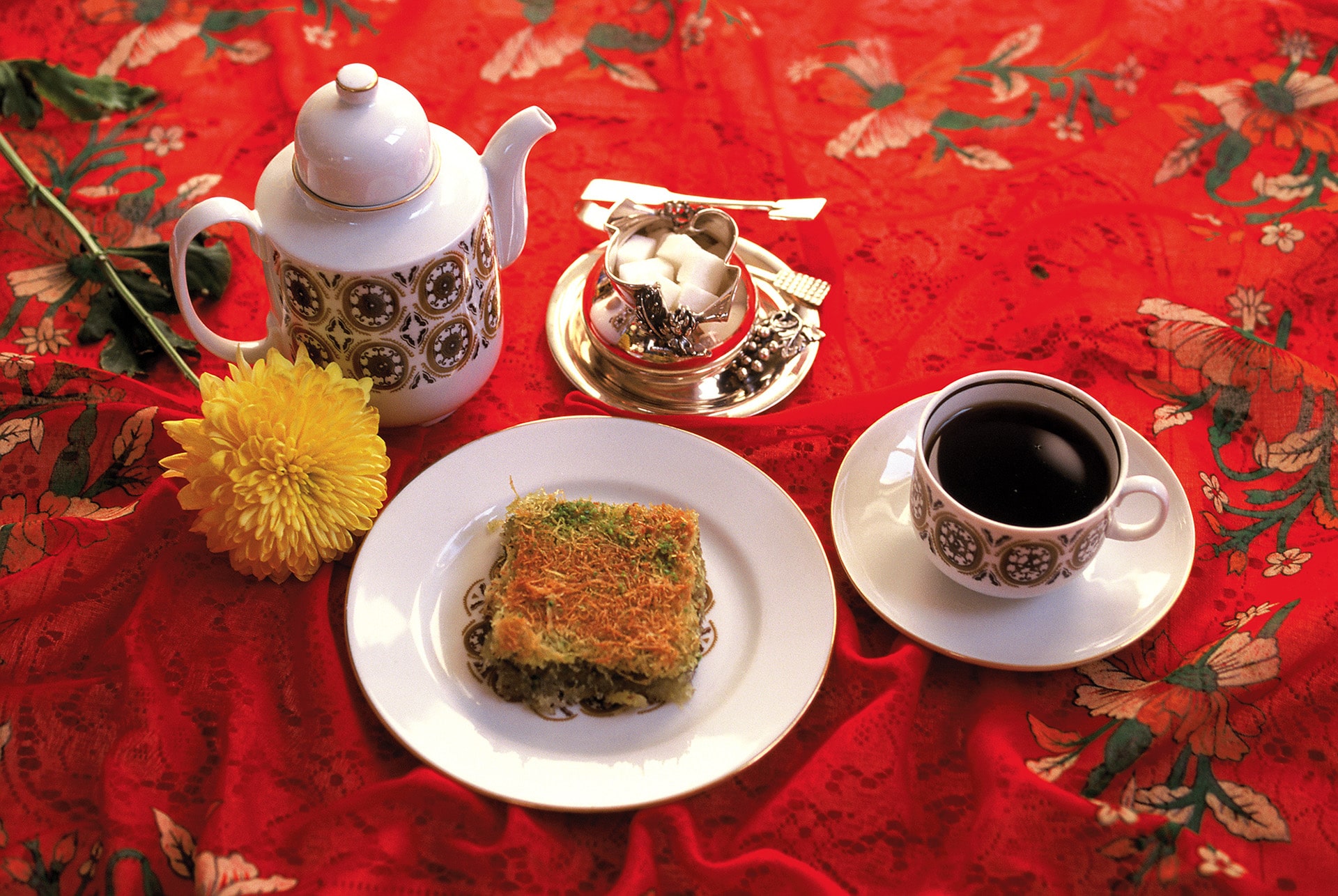 The most wonderful contribution of Turkish cuisine to the family of desserts is the milk desserts – the "muhallebi" family. These are among the rare types of guilt-free puddings made with starch and rice flour, and originally without any eggs or butter. When the occasion calls for even a lighter dessert, the milk can also be omitted; instead, the pudding may be flavoured with citrus fruits, such as lemons or oranges. The milk desserts include a variety of puddings, ranging from the very light and subtle rosewater variety to the milk pudding laced with strands of chicken breast.
Grain-based desserts include baked pastries, fried yeast-dough pastries and the pan-sautéed desserts. The baked pastries can also be referred to as the baklava family. These are paperthin pastry sheets that are brushed with butter and folded, layered, or rolled after being filled with ground pistachios, walnuts or heavy cream, and then baked, after which a syrup is poured over them. The various types, such as the sultan, the nightingale's nest, or the twisted turban differ according to the amount and placement of nuts, size and shape of the individual pieces, and the dryness of the final product.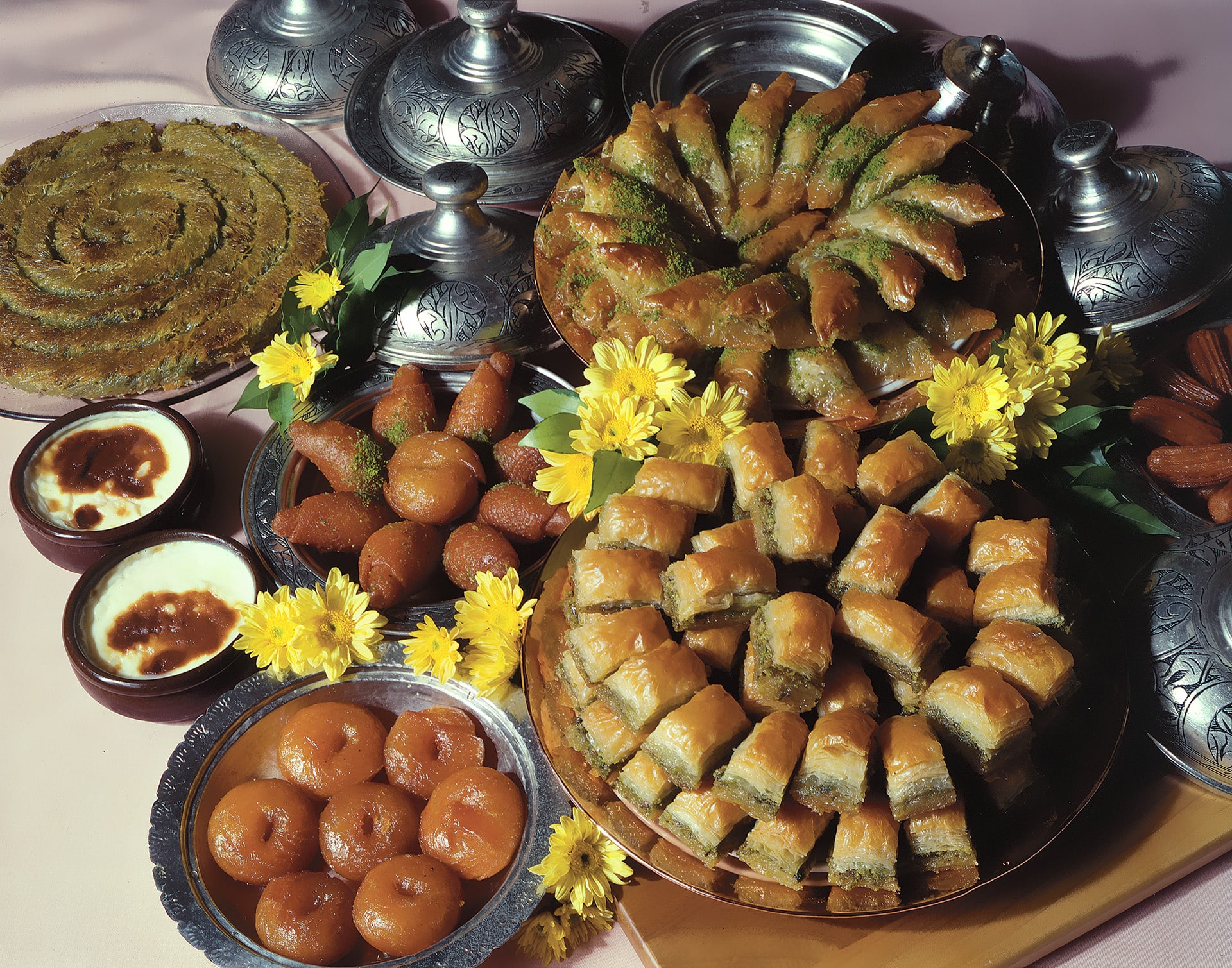 The "lokma" family is made by frying soft pieces of yeast dough in oil and dipping them in syrup. Lady's lips, lady's navel, and vizier finger are fine examples.
"Helva" is made by pan-sautéing flour or semolina and pine nuts in butter before adding sugar and milk or water, then briefly cooking until these are absorbed. The preparation of helva is conducive to communal cooking. People are invited for "helva conversations" to pass the long winter nights. The more familiar tahini helva is sold in blocks at corner grocery shops.
Another dessert that worth mentioning is "Ekmek Kadayıfı", a piece of special bread cooked in syrup, topped with lots of walnuts and heavy cream. This is possibly the queen of all desserts, so plan to taste it.
There are shops where baklava, börek, or muhallebi are sold, exclusively or together with other things. People come to these places for take-away or to sit down at one of the tables tucked away in a corner of the shop. The baklava shops usually feature "water börek", an especially difficult börek to make. Most börek shops also make milk puddings. These are excellent places to eat breakfast or lunch at any time of the day. Many pudding shops also serve chicken soup. In any event, it is possible to feast on börek and milk pudding for an entire holiday, if on a tight budget.
You have to be in Türkiye to get the real and the best taste of the desserts above. However, in addition to the variety of Turkish delights, there is a lesser-known type of dessert that can be taken back home in a sweet box. These are nut pastes - marzipan made of almonds and pistachios. A few boxes will usually last for a month or so and bring delight after dinner. Another unique sweet taste is "akide şekeri", one of the oldest sweet delicacies of the Ottoman kitchens. It was also a symbol of janissaries' loyalty to and trust in the Empire. Finally, candied chestnuts, a specialty of Bursa, are among the most wonderful nutty desserts.